Intersolar has taken a significant step towards achieving a more environmentally friendly nation by installing India's largest floating solar power project, with a capacity of 101.6 Megawatt Peak, put into operation in Kayamkulam, Kerala on a 350-acre water body in the backwaters area. The Floating Solar Photovoltaic (FSPV) through Power Purchase Agreement project is the first of its kind. It is also one of the first projects of Intersolar to have CCTVs monitored and tracked around-the-clock for enhanced security and malfunction identification. This 101.6 MWp capacity solar plant's large-scale installation and commissioning were the fastest in the FSPV category and secured a Commercial Operation Date (CoD) certification on 24th June'22. It boasts a floating inverter platform having a 5 Megawatt (MW) capacity for the first time at Intersolar. Intersolar has achieved a landmark project with the completion of this floating solar project that along with lowering the carbon emissions (64142 tonnes), also creatively utilizes the unused area top of water body energy that will generate 167150 MWh of energy annually.
Project Type :
Floating Solar PV
Project Installation :
2022
Safe Person Hours :
10,20,488 Hrs
Overcoming major challenges during the project's construction, such as dredging of underwater soil strata and heavy monsoon, 134 cast pile foundations were used to support the Central Monitoring and Control Stations (CMCS) and the 33/220 kilovolts switchyard. The positioning of the mooring in the waterbody was delayed due to low water levels during the installation and towing of the floats. The solar modules, which were towed for 3 kilometers on a 15 meters deep sea-linked National waterway, were exposed to strong winds and gushing tides reaching a height of 3.5 meters. The team also had to deal with encroachment from local fishermen, including theft, blocking of the walkway with fishing nets, and damage to built-in structures. Despite these arduous challenges, the project was commissioned successfully.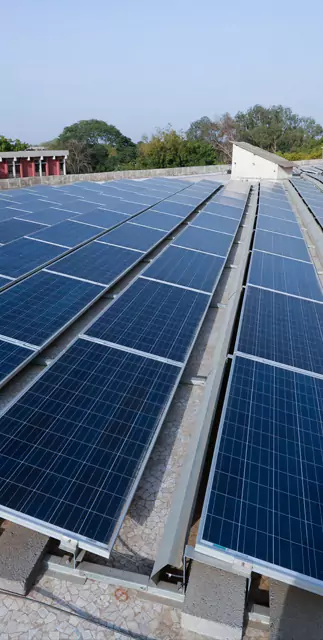 With the execution of this floating solar project, Intersolar exemplifies the accomplishment of landmark projects in the nation that take the edge off carbon emissions and intelligently utilizes the underutilized area of water body to generate energy. With the successful completion of this project, the company has successfully executed utility-scale solar projects totaling 9.7 GWp.