The project involved installing a solar water heating system at Sri Dashmesh Academy in Anandpur Sahib district. Intersolar, a renowned solar energy solutions provider, replaced the existing water heating systems with new, more efficient ones. The installation was completed successfully, and the latest designs are functioning properly. The current conventional water heating systems were replaced with 13 solar water heating units, each with a capacity of 1000 litres per day (LPD). Intersolar, a reputed provider of solar energy solutions, carried out the implementation.
Project Type :
Solar Water Heating System
Safe Person Hours :
10,20, 200 Hrs
Location :
Anandpur Sahib Dist.
Installing solar water heating systems requires a thorough site assessment to determine the best locations for maximum solar exposure. This step could have been challenging due to available space, building orientation, shading from surrounding structures or trees, and other logistical considerations. Proper site evaluation is crucial to ensure the optimal performance of the solar systems. Dashmesh Academy faced it, but the project was implemented successfully.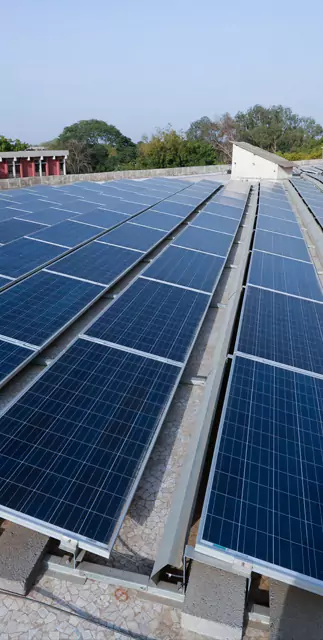 By implementing this project, Sri Dashmesh Academy has embraced renewable energy technology, contributing to a reduction in greenhouse gas emissions and reliance on conventional energy sources. Solar water heating systems provide hot water for various purposes, including bathing, cleaning, and other daily activities, reducing the need for traditional energy-intensive water heating methods. The benefits of the new solar water heating systems extend beyond environmental considerations. They offer long-term cost savings by reducing the Academy's dependence on conventional energy sources and minimizing utility bills.