Cambridge International School
M/s Intersolar Systems (P) Ltd. was contracted to install and commission a solar swimming pool heating system for Cambridge International School. The project involved installing a solar thermal system to efficiently heat a swimming pool with a capacity of 4 lac litres. The plan was designed to harness the sun's energy and convert it into heat for the collection, providing an eco-friendly and cost-effective solution for maintaining comfortable water temperatures.
Project Type :
Swimming Pool Heating System
Capacity :
4,00,000 litres
Project Installation :
2011
The pool, with a capacity of 4 lac litres (400,000 litres), needed a proper heating system. This led to difficulty maintaining a comfortable water temperature, especially during colder months or in regions with cooler climates. Also, temperature fluctuations were one of the main issues. Due to the absence of a reliable heating system, the pool water temperature varied significantly, making it uncomfortable for swimmers. Inconsistent water temperatures not only impacted the overall swimming experience but also limited the usage of the pool during certain periods.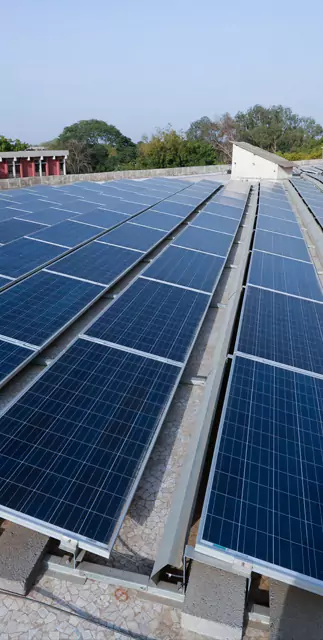 By implementing Intersolar's heat system solutions, Intersolar Systems ensured the smooth operation of the solar swimming pool heating system installed in 2011. Proactive maintenance, performance monitoring, customer support, and system upgrades contributed to the system's long-term reliability, efficiency, and customer satisfaction. The plan included routine inspections, cleaning of solar panels, checking circulation pumps, valves, and controls, and identifying and repairing any leaks or damages.